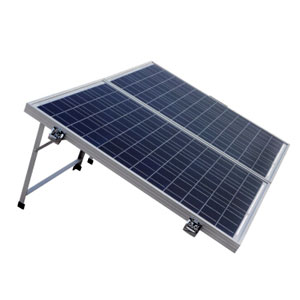 Solar panels
Features:
1. High conversion efficiency based on leading innovative photovoltaic technologies;
2. High stabillity with guaranteed+/-3%power output tolerance, ensuring return on investment;
3. Beautiful appearance;
4. Sealed with high transparency low iron tempered glass, anti-aging EVA , high insulation TPT, with the anodizing (or plating finish);
5. Withstands high wind-pressure and snow load;
6. Easy to install.
Applications
1. On-grid utility systems;
2. On-grid commercial systems;
3. Off-grid ground mounted systems;
4. Our products are widely used in solar lighting, lamps, household electricity, traffic, communication, meteorological, building and photovoltaic power plants and other fields.
品名规格Specifications

边框材质Frame Material

边框尺寸 Frame Dimension (mm)
实际功率(W)

参考重量Approx Weight(KG)

高(H)
宽(W)
厚度(TH)
9v3W
铝合金 Aluminium Alloy
160
200
16
3.5
0.19
6V10W
铝合金 Aluminium Alloy
230
340
18
10.5
0.64
18V10W
铝合金 Aluminium Alloy
230
340
18
10.5
0.64
12V20W
铝合金 Aluminium Alloy
420
340
18
20
1.27
18V20W
铝合金 Aluminium Alloy
330
510
18
20
1.27
18V30W
铝合金 Aluminium Alloy
470
510
25
30
1.89
18V40W
铝合金 Aluminium Alloy
535
515
25
40
2.53
18V50W
铝合金 Aluminium Alloy
680
515
30
50
3.16
18V60W
铝合金 Aluminium Alloy
820
515
30
60
3.55
18V70W
铝合金 Aluminium Alloy
760
670
30
70
4.6
18V80W
铝合金 Aluminium Alloy
830
670
30
80
5
18V100W
铝合金 Aluminium Alloy
1010
670
30
100
6.33
18V120W
铝合金 Aluminium Alloy
1190
670
30
120
6.5
18V150W
铝合金 Aluminium Alloy
1480
680
35
150
7.2
36v200W
铝合金 Aluminium Alloy
1300
990
40
200
10.5
30v250W
铝合金 Aluminium Alloy
1630
990
40
255
12
36v300W
铝合金 Aluminium Alloy
1940
990
45
310
15